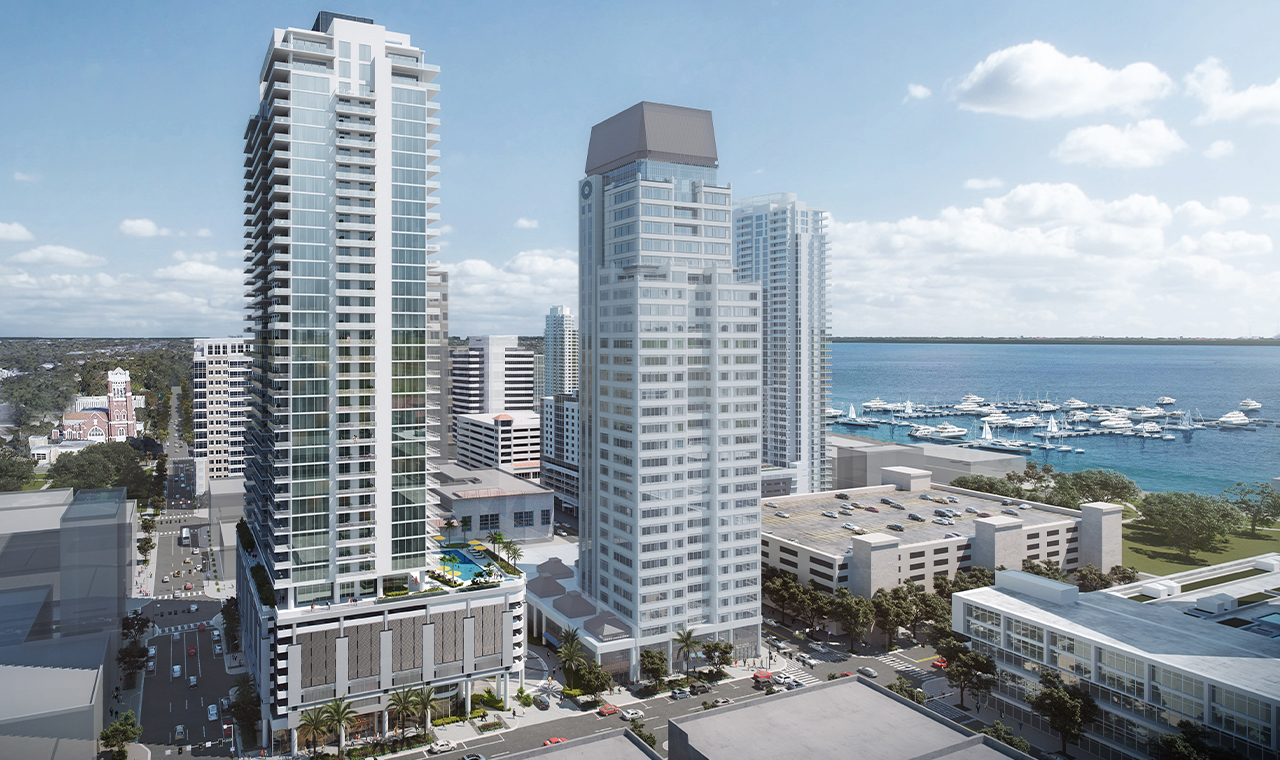 By Breanne Williams – Reporter, Tampa Bay Business Journal
A South Florida developer is planning to build a 41-story condominium tower in downtown St. Petersburg, on the parking lot adjacent to office tower 200 Central.
The developer of the ONE St. Petersburg and Saltaire St. Petersburg condo buildings, The Kolter Group, said the new unnamed development will be a similar modern contemporary project with enhanced amenities. Kolter is currently under contract to purchase the site, has submitted site plans to the city and aims to bring the project before the Development Review Commission by the end of the year. "We've had great success," said Brian Van Slyke, regional president of The Kolter Group. "This will be our fourth condo project in St. Pete. Demand for our projects has remained strong, and we felt the timing was right to continue on with another project in St. Petersburg."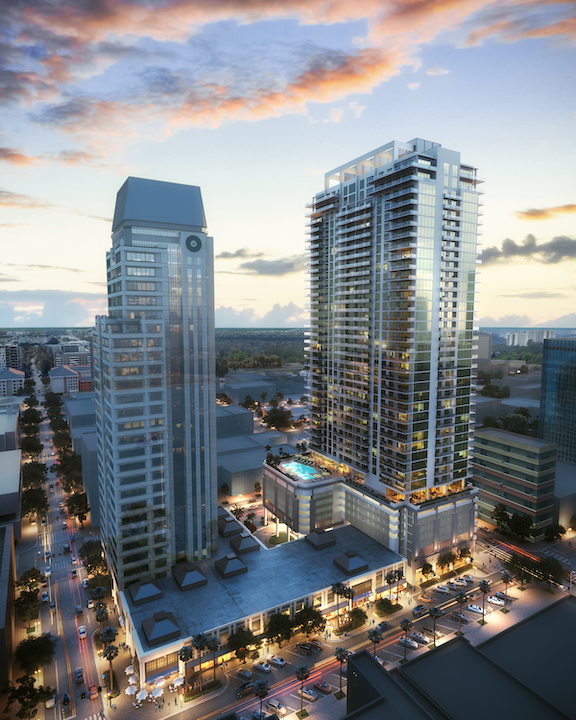 Rendering of the 41-story condominium planned adjacent to 200 Central.
Van Slyke said the project will cost approximately $140 million in today's market and will feature roughly 248 units. Kolter will launch pricing at the start of 2022 and will begin construction later that year. He estimated it would take two and a half to three years to complete.
The location will be directly adjacent to 200 Central, which is where Ark Investment Management firm will be located. Ark, helmed by Wall Street icon Cathie Wood, is moving its offices from Manhattan to St. Petersburg.
While the design is still being finalized, initial plans show units ranging from two- to three-bedroom floorplans, some as large as 3,000 square feet. Once again, Kolter is partnering with San Francisco-based SB Architects to design the project. SB Architects also designed ONE St. Petersburg and the Saltaire.
"The St. Pete market is strong, and the migration we've seen for St. Pete and the whole Tampa Bay market remains strong and has been accelerated by the pandemic," Van Slyke said. "People are continuing to move out of the northern, more densely populated cities because of weather, because of lifestyle and because of taxes. That has only continued and strengthened because of the pandemic."
Enhanced amenities have been heavily emphasized with the new development. The building will include a coworking space for its residents, which Van Slyke said was designed due to the increase in work from home demands from residents. He said they wanted to include the co-work location so residents had the option to stay on-site and still have a formal work environment.
Amenities will be distributed throughout the ninth floor of the development and will include items like a large pool, spa, dog park, formal social and dining spaces, a golf and
swing simulator in the game room, a theater room, a "pretty robust wellness center" and two guest suites so residents' guests can stay on the property.
On the ground floor facing Central Avenue will be approximately 6,100 square feet of retail space. A parking garage will run from levels two through eight with about 482 parking spaces. Residents will have an entrance on First Avenue South.
Tampa-based United Landmark Associates oversees the marketing of the project, and Smith and Associates Real Estate will act as the brokerage firm for the condo sales.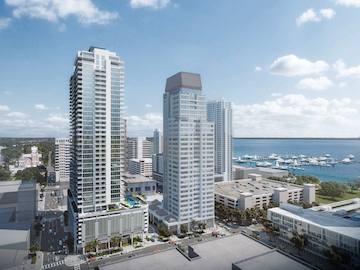 Rendering of the 41-story condominium planned adjacent to 200 Central.